Tempting Restaurants in Bahrain
Eat Well at The Westin Hotel Bahrain City Centre
Whether celebrating, looking for a quick healthy bite or casual evening with friends, our restaurants and bars will be sure to impress.
All our menus will have SuperFoodsRx™ cleverly included so you're eating well every time you dine us. Our SuperFoodsRx menu cultivates "food synergy," the pairing of certain foods to increase their nutritional value, to give you the focused energy you need to meet the challenges of your day. Since eating well isn't only for adults, Westin has teamed up with the experts at SuperChefs™ to offer the Westin Eat Well Menu for Kids. SuperChefs is dedicated to educating kids on the importance—and the fun—of eating smart. Each of our special menu offerings is as delicious as it is nutritious, making kids and parents happy.
FURN
Bistro & Bakery
FURN Bistro - The new restaurant concept at the Westin Hotel situated in the Bahrain City Centre is a unique experience of the heart and soul of pure Khaleeji cuisine. The authentic flavours of traditional Khaleeji food are enhanced and transformed by the contemporary surroundings and modern presentation style. The true tastes of Machboos, Ghoozi and Saloona are re-invented in the hands of Manaf, our Bahraini master chef through the stunning presentation of only the freshest and locally sourced ingredients. Allow yourself to enjoy the perfect spices and generous portions of our reassuringly priced timeless favourites in a way never experienced before. Authentic Khaleeji cuisine with a difference awaits you now at FURN.
Bistro breakfast: 06:30 – 11:00
Bistro lunch: 12:30 – 16:00
Bistro dinner: 18:30 - 23:00
FURN Bakery is a mesmerising display of the true art of the oven demonstrated by our skilled artisan bakers. Authentic oven baked items from the east and west are served fresh and warm all day long. Timeless Arabic favourites of Manakish, Sambusak and Khobz rub shoulders with Western style loaves, French croissants and authentic Austrian Strudel. Watch as our talented master bakers stretch and form the dough into artistically rustic creations, sprinkle with seeds or sugar and make ready for our busy wrought iron signature oven. Then take a cup of the best coffee in town, select from a delicious array of sweet and savoury perfectly baked items, relax and enjoy it all fresh from the oven.
Bakery breakfast: 8:00 – 11:00
Bakery lunch: 11:00 – 16:00
Bakery dinner: 16:00 - 23:00
Nasmat - Poolbar
Irresistible Mediterranean Lounge
Discover the distinctive ambience of al fresco dining at the laid-back Nasmat Poolbar. The stimulating poolside setting is an idyllic venue to enjoy our refreshing beverages and a variety of light snacks, with traditional shisha service available to relax and unwind.

Open daily from 10:00 to midnight
Shisha available from 6:00 pm to midnight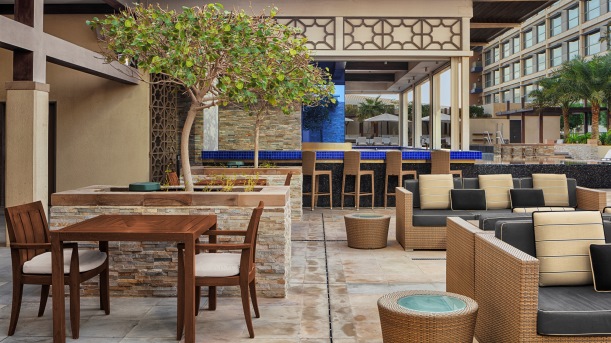 Boudoir
Energizing Extravaganza
Sheer opulence, extravagant interiors and premium amenities await at Boudoir. Located on the mezzanine level, Art Deco furnishings, high quality beverages and the finest cigars lend an aura of panache to this upscale Parisian inspired venue.

Open Sunday to Saturday from 5:00 pm - 2:00 am
Mezzanine Lounge
A Calming Atmosphere
Sit back and enjoy an array of widescreen entertainment as you lounge in a comfortable atmosphere and indulge in sumptuous salads, sandwiches, and sweet treats. Private pods make for an ideal escape or an intimate gathering.
Sunday to Wednesday 04:00 pm - 01:00 am
Thursday to Sunday 11:00 am - 01:00 am
Revive with an artisanal elixir from the Crafted at Westin menu, a fresh selection of expertly mixed cocktails infused with natural ingredients and local flavors.